Aadhaar card is one of the most important document which is required now a days. It is mandatory that every citizen of India must have an Aadhar card which represents his or her identity.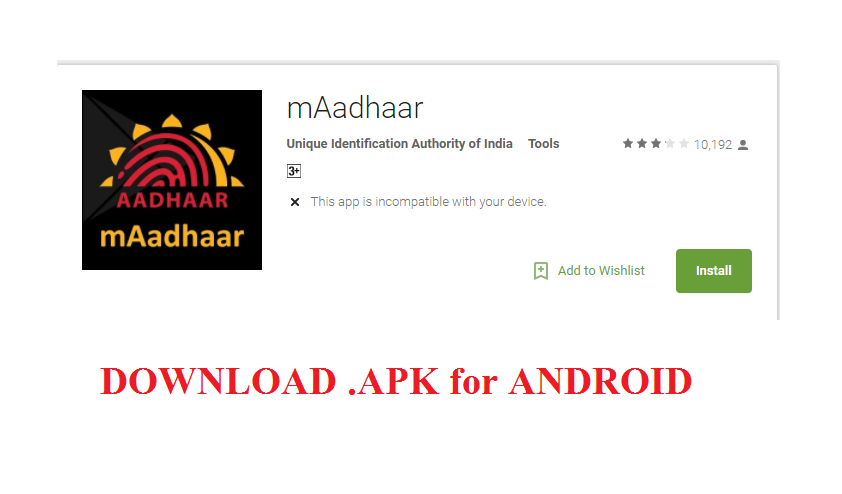 Today we are going to discuss about mAadhar APK which you can download directly from our webend.in website or we will redirect you to other website. Let us see introduction about mAadhaar.
If you want to get your original aadhaar card then visit this site for Aadhar Card Download.
What is mAadhaar Apk?
Developed by Unique Identification Authority of India(UIDAI) mAdhar is a official mobile application which provide interface to all those citizens of India holding the Adhar Card number.
The maAdhaar App contains name, Date of Birth, gender and address. A Photograph of the candidate is also there linked with Aadhaar Number.
After looking at the Introduction phase of mAdhar Card. Let us look at which are the Features of mAadhaar APK FAQ's.
►Download Profile: A Person holding Adhaar card can easily proceed with the process of mAdhaar APK Download. It is an amazing way through which you can carry your Adhaar card number easily having your details.
►Biometric Authentication: You can lock your Bio-metric data if you are willing to secure Biometric Authentication.
►Generation of TOTP: TOTP Stands for Time-based One-Time Password which is automatically generated. It works as a temporary password which you can use instead of OTP.
►Profile Update: If you want to update your profile you can request for it and it will be done successfully.
How to Download maAdhaar APK?
The download procedure is very easy. Go to Google Play Store and type mAadhar. Download mAadhaar APK and start using it.
mAadhaar App Usage Guidelines
After installing mAadhaar App in your Android device ,you should read below guidelines ,so you can avoid making mistake while downloading your data in this app.READ CAREFULLY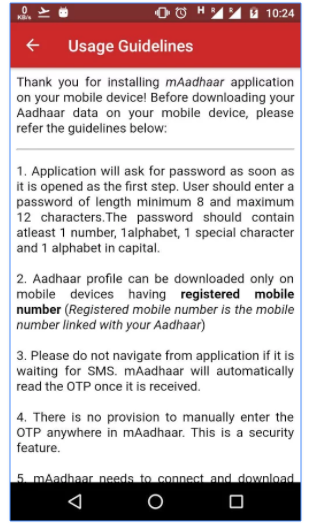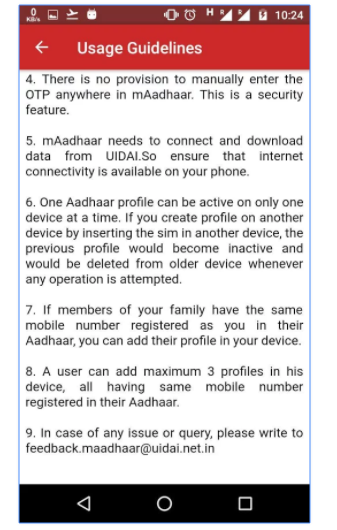 Reviews
mAadhaar application reviews are on average scale ,you can check in below image.
How to Use mAadhaar App in Android Device
If you are unable to download mAadhaar app from google playstore then you can download its APK file which further you can run in your android device.
mAadhar App ADDITIONAL INFORMATION
Save
Save