Can you imagine a day without your phone? Oops, you can't. You may live a day or two without food. But without your smartphone?? Hmm.
Phones have become our life companion after a short term smart was added forth to it. Now, when someone says phone, it means smartphones. The time has changed. Martin Kooper invented mobile phone for voice communication on the go. But now, things got transformed.
Wait, let me come back to the topic. Today, I am here to share five things with you which you need to keep in your mind before buying a phone. No one wants to waste their money by purchasing a good- for- nothing device.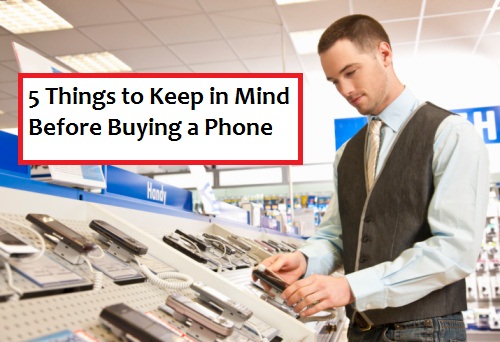 So read this not to waste your hard- earned bucks. It's simply five things, not a big deal.
#1. Fix Your Budget
You should know your budget before buying a gadget. This is the foremost step before buying anything. Counting your money within the shop is not an ideal practice.
Many worthy budget phones are available today. So, I am sure that you won't have to spend a lot to get your hands on a decent smartphone.
I have a Zenfone 5. Before purchasing this phone, I set a budget in my mind. Mine was 10k INR.
#2. Know Your Needs
The very next step is knowing your needs. For what you need a smartphone? Like any other user, you need a smartphone for many reasons.
What I meant is understanding your primary needs. For me, my phone is my daily driver. I use it for calling, messaging, social networking, reading and even for writing. I am not too obsessed with taking photos. But it doesn't mean I have no interest in capturing special moments with my phone.
So, create a list of your needs. Do a deep research on smartphones and find out the phones that serve your purposes very well.
Your needs must always be compatible with the budget. You can't get a USB type C port within a budget of 5k. Hence no day dreams, please!!
#3. Choose between Platforms
A handful of mobile platforms is available like Android, iOS, Windows, Blackberry and to name a few.
Android offers a new level of customization. That's why CynogenMod and Oxygen OS were built on top of it. Every phone manufacturer has their user interface in their Android phone.
Apple's iPhone is renowned for its classy look. The design, form factor and the security it offers is not something that we can find in any other phone.
What if you don't like both the mobile operating systems. A couple of famous ones are there. Windows and Blackberry. Choose what suits your mind and brain.
#4. Make a List with Your Desired Features
With this step, we can have a shortlist. Let me show you the way. Decide your budget and platform. Then, create a list of phones under your budget with the desired OS (say Android phones under 10k). Apple devices are expensive than others. So don't put a budget under 15k for it.
Anyway, now you have a list. Then, on another sheet of paper (or virtual file), list out the specs you want. Hold the both lists in your hand. Tick those phones that have all your desired specs (don't go dreamy with limited budgets).
Apparently, some phones will be ruled out. As you have fewer choices now, it is easy to select one.
I did this. On the list, I got confused between Xiaomi Mi Note 4G and Asus Zenfone 5. I have two SIM cards, and obviously I needed a phone with dual SIM support. Mi Note  4G is a single SIM device. So I purchased the latter.
#5. Don't Get Attached or Detached to a Brand
Do you have a favorite phone brand? Most probably, you will say the brand of your current phone. I would say, don't get too much attached to that brand. Why because you will think all of their products are good even if they aren't.
And don't underestimate any brand either. I thought Xiaomi to be not- that- good- brand during their initial period in India. Anyhow, I couldn't accept them. But guess what? Xiaomi is doing a fabulous job with their gadget, and it has got a huge fan base here.
Really, Xiaomi has a set of budget devices which outshines every other competitor at that price range (ex: – Red Mi 2, Mi 4, Mi Note).
That's all for now. Let me know your opinion via comment. Do share this with your friends.