One of the most popular gadget technology website Unbox Therapy has said something about upcoming iPhone generation mobile that has totally shocked the iphone lovers and gadget world. In an Apple iPhone 6 exclusive video Unbox Therapy has displayed some features and specifications about forthcoming iPhone device that discloses the suspense behind iphone 6 features.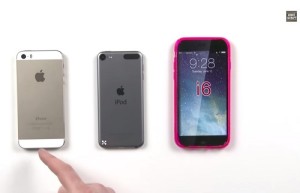 Lots of speculations and leaks are coming to gadget world regarding iPhone 6, but Unbox Therapy has uploaded a video that simply indicates that mobile world is going to have the thinnest iPhone this year in September month. Unbox haven't mentioned about new generation iPhone's release date but it has mentioned that Apple may launch iPhone 6 or iPhone air with almost same specifications as of current iPod touch generation.
Unbox Therapy about iPhone 6
While comparing current iPhone 5 and ipod touch generations with speculated iphone 6 in the video, it is found that upcoming Apple iphone generation will be more light weighted and thin than the recent iphone 5 mobile and it will be having same thickness as of current ipod touch available in market.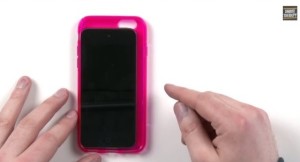 To the compare with iphone 5, iPhone 6 may arrive with curved surface than the flat look of apple iPhone 5. The internal specifications of iPhone 6 can be same as of iPod touch and it may carry the same thickness as well i.e. 4 inch. The length and width of next generation apple mobile could be more than current iPod touch's length and width. The length can be around 5.4 and 5.5 inches whereas width could be 2.6 inch.
Curved surface design can be moulted in iphone 6 as is was done in the current ipod touch. The buttons of the device are matched up exactly with ipod touch in the video.  There was no indication about camera specs and features in the video so we can't say anything about the camera quality of upcoming iphone mobile