Renault has launched cars earlier in India as Renault Pulse & Renault Influence. This time the Company has come over with a new mega launch, the Renault Duster. This car is a combo of glory and comfort. In India, it has been priced between Rs. 7.19 lakh to Rs. 11.11 lakh. The car is available in six variants, two petrol and four diesel.
Renault Duster Overview:
As specified by the name, Renault Duster is having quite attractive looks and aggressive power engine. With the launch of new car, the French based Company is expecting to grow its sales in Indian automobile industry. Renault Duster will challenge all the Sedan cars and other luxury cars running on Indian roads. The car is built on Nissan BO platform and is having a length of 4.31 metres, width of 1.82 metres. It is built to run on city roads and also for off road tracks and has a nature of 4×4 SUV. The car has been made available in both petrol and diesel models. The petrol Renault Duster features a 1598cc I4 DOHC engine that produces 100.3bhp at 5850 rpm and a maximum torque of 145Nm at 3750 rpm. The Diesel Renault Duster features a 1461cc Turbocharged Diesel I4 SOHC engine that delivers two separate power figures: 108.3bhp and 83.5bhp power and torque of 200Nm and 248Nm respectively. In addition to the above listed figures, Renault Duster has two transmission options: five-speed manual & six-speed manual.
Renault Duster Safety Keys:
The safety features of Renault Duster include Engine Immobilizer, Door open Warning Lamp, Central locking and Engine Protective under guard. Anti-lock Brake System, Emergency Brake Assist besides Electronic Brakeforce Distribution, stability control module, two airbags at front seats and three-point seatbelt tensioners are also provided in the car varying from low price to high price models.
Different Variants of Renault Duster and their Price in India:
Renault Duster Petrol RxL : Rs. 8,25,910
Renault Duster Petrol RxE : Rs. 7,23,976
Renault Duster 85PS Diesel RxL : Rs. 9,07,457
Renault Duster 85PS Diesel RxE : Rs. 8,05,523
Renault Duster 110PS Diesel RxL : Rs. 10,09,391
Renault Duster 110PS Diesel RxZ : Rs. 11,11,324
Renault Duster Mileage:
Renault Duster is fuel efficient car as it is lighter than other SUV models launched in India. It has been provided with 1.5 diesel powered engine. The mileage of the car (petrol variant) is quite satisfactory as it gives 13.24kmpl mileage. So, it is good enough to use the automobile of petrol version in this world of rising petrol prices. It is but obvious that the diesel variant would give more mileage than the petrol one. The mileage related to the diesel variant is about 20.46kmpl.
Pick-up Power:
It would be really amazing to drive the vehicle as it is quite smooth provided with comfort zone of 2000-4000rpm. The weight of Duster is near 1308Kg and it will give good performance as the diesel variant can accelerate at 100Kmph in just 14.6 sec. However, the top diesel variant will accelerate at 100Kmph in just 14.2 sec. So, there is a .4 sec difference in the pick-up power of top and base variants. Talking about the petrol variant, it can accelerate you to 100Kmph in 14.5 sec.
Exteriors of Renault Duster:
As mentioned above, the length of the car is 4.315 metres, width of 1.822 metres and height of 1.695 metres. The wheelbase is about 2673mm. It is having a clearance of 205mm above the ground. So, it is having a perfect design to run it on the city roads and can also be used as an off-road vehicle. The roof of the car includes chrome wide grille, the skid plate & antenna. The high ground clearance and alloy wheels give the car a sporty and attractive look. Claddings have been provided to avoid any collision and thereby making harm to the car.
The bonnet of the car is having no curves on it and the bumper gives way to black cladding which has round fog lamps on them on each side. The number plate is held by a nudge bar.
The side views are really interesting. These are having body color door handles, wing mirrors & fuel lid. The two windows give way to the third one but it can't be opened. There are prominently seamed wheel arches on every side and below these arches, there are 16 inch alloy wheels which add to the beauty of the car.
The rear side of the car features a curvy boot lid, skid plate, vertically placed tail lamps, mount stop lamp, hexagonal windshield, rear viper, Renault badge and reflectors. The rear bumper is painted in body color. There is a number plate below the boot lip opener which is having a plate on which Duster is written.
Interior of Renault Duster: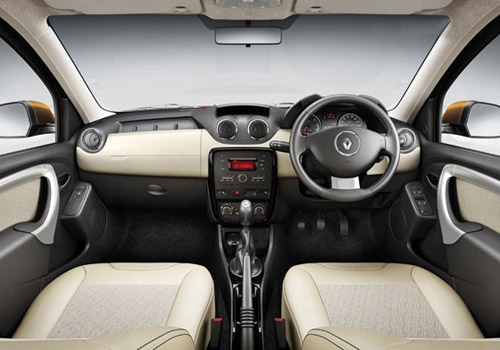 It is specified for a capacity of five passengers in it. Interior is also having a sporty look than a luxurious one as it has been published with black theme. There is a 3 spoke steering which is having a Renault's logo and is electrically powered. The AC of the car is awesome and cools the inner atmosphere within no time. The dashboard is curvy in shape and sporty. There is a semi hooded instrument cluster cover with chrome polished dials. The gear is somehow hard.
The seats are comfortable and high quality materials have been used in the interior of the car which gives affine touch to it. There is a music system fitted in the centre of dashboard and is having features of Bluetooth and AUX inputs. Power windows add to the glory of the car. In short, the interior of Renault Duster seems to be borrowed from Renault Logan.
Renault Duster available colors:
Renault Duster is available in a variety of colors in India viz: metallic fiery red, pearl supreme white, metallic graphite grey, metallic moonlight silver, pearl galaxy black & metallic woodland brown.
Quick View:
Save