In this modern world one cannot be with their their Siblings all the time or even on the special day i.e on Raksha Bandhan 2022. But for us rakhi is a special festival to express our love to our brothers/sisters. For this we send SMS and Poems to our loved ones. Instead sending the old messages, check out our new unique collection of messages and send them to your siblings through SMS and Social media like Whatsapp and Facebook. Below is our list of messages divided into following categories.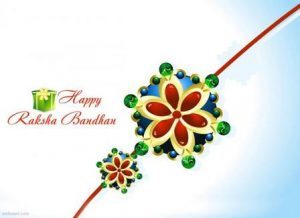 Raksha Bandhan Jokes Sms for –
♦ For Sisters
♦ For Brothers
♦ Including Songs
♦ For Youngsters
♦ Poems
For Sisters-
1) To my most Loving Sis,
Hi di, Wish you a very happy Raksha Bandhan 2022. This day is way to strengthen the bond between us. On this special day, I think of the days that we have spent together and shared our feelings. I'm so lucky to have a sister like you da. I pray for you, all your dreams and aims come true in this year. Special Rakhi wishes for my most loving Sis. Take care da.
Your Lovable (Name)
2) "God sent in my life a beautiful Angel in your guise, Sister. In good times or bad ones, you're ready to extend your help and support. Thanks for all you do."
3) Hey Ishwar(God) mai tujhase bahut pyar karta hu,
Tujh par mai apna sab kuchh nyochhavar karta hu,
Par mai apni bahan par tujhase jayada visvas karta hu.
4) Dear Behan,
I really enjoyed the moments of Rakhi, and I swear that the promises I made to you will be fulfilled all my life, till my last breath, and my respect to Jiju will remain unchanged forever.
Thanks & Regards
5) To My Most Loving Sister (Name),
(Name), this day is a gift from God to express the deep love between us. Thanks for being with me to hold my hand, to be a shoulder to cry and a soul to inspire. My dear Sister, I always want your happiness only. So be happy always. On this wonderful day I'm missing you so much. I know , you will think of me and our unforgettable days. Love you.
Happy Raksha Bandhan 2022
For Brothers-
1) You never say no, you never say thats impossible and you never say you can't. That's my bro, a superman who make things possible and who make paths smoother. I love you Bro.
2) The pious occasion of Raksha Bandhan reminds me of the days when we were kids. We fought and made up easily. Those lovely days can't come back but will always stay in my heart. Missing you darling brother on this Raksha Bandhan.
3) No matter the distances between us, my Rakhi will always reach on time, to be tied on the wrist of my loving brother with the heartwarming wishes of joy and happiness to illuminate your life.
4) My brother is my best friend. You stand by me when I am alone, you make feel happy when I am low. Thanks for being for me always, Dear Brother. Happy Raksha Bandhan.
Including Songs –
1) "Behna ne bhaai ki kalaai se pyaar baandha hai
pyaar ke do taar se, sansaar baandha hai
resham ki dori se -2
resham ki dori se sansaar baandha hai) -2."
2) "Mere Bhaiya Mere Chanda
Mere Anamol Ratan
Tere Badale Main Zamaane Ki
Koi Cheez Na Lu -2."
For Youngsters-
1) "Hey my sweet little pie, your cute smile makes my day, your small little hands take me out from all dangers of life. You are little angel of my life. I love you. Your's elder sister/brother."
2) "My cute angel from today's onward's I promise you I'll never scold you when you'll tear my books, messed up my clothes. You are really a ray of happiness in my life."
Poems-
1) A Sister Like You
Someone who will understand
Who knows the way I feel
In every situation
Her concern is very real
Someone who has walked my ways
Who knows my every need
Times when she would see me cry
Her heart would nearly bleed
Everyone should have a sister
Just the way I do
Richly blessed is what I am
To have a sister like you
2) A Brother Just Like You
I just want to let you know
You mean the world to me
Only a heart as dear as yours
Would give so unselfishly
The many things you've done
All the times that you were there
Help me know deep down inside
How much you really care
Even though I might not say
I appreciate all you do
Richly blessed is how I feel
Having a brother just like you.
3) My Sister and Me
We laugh,
we cry,
we make time fly.
Best friends are we
my sister and me.
Happy Raksha Bandhan 2022.We Indians enjoy all the festival in every way possible. Rakhi is a festival of love bond between brothers and sister. But we make fun out of it too by creating Jokes (on boys specially), and sending them to friends on social media. So this year don't send the old same jokes and instead do check our new collection of jokes.
Raksha Bandhan Jokes-
1) Har ladki tere liye bekarar Hai
Har ladki ko tera intzar Hai
Ye tera koi kamaal nahi,
bus kuch din baad…..
"RAAKHI" ka tyohaar Hai.
2) Savdhan !!!!!
Agar aap bus, train, plane ya kahin se bhi aa jaa rahe ho aur kisi mahila/ladki ke hath mein
phool,dhaga,chain ya chamakti hue koi bhi vastu dekhein to turant wahan se bhag jaye.
Yah vastu RAKHI ho sakti hai. Apki zara si laaparwahi apko BHAI bana sakti hai.
Purush heet mein jaaree ….."
3) Na mom ki maar se Na dad k atyachar se Na dosto ki fatkar se Na ldki k inkar se Na chaplo ki bochar se ldke drte h to bas "RAKHI" k tyohar se.
4)Payal chhankati ayee thi…..
Payal chhankati chali gayee
Main sindoor leke khada tha,
Vo Mujhe Rakhi pehnake chali gayee."
If you like the above collection of ours on Raksha Bandhan 2022 then please do share it on the social media by clicking on the below buttons. Good Day!
More on Raksha Bandhan 2022 :-
Raksha Bandhan 2022 Greetings, Cards, Gift Suggestions
Raksha Bandhan Gift Ideas For Brothers And Sisters – Rakhi 2022
HD Raksha Bandhan Images for WhatsApp Facebook Pinterest
Raksha Bandhan 2022 Facebook Timeline Cover and DP