Let's know what is Kummattikali ? and its significance .This a special kind of art form performed during the festival of Onam. The performers of Kummattikali- the mask onam dance go from each house to other in the Southern Malabar area of Kerala entertaining people and collecting small gifts.
Famous Onam Festival Dance – Kummattikali
The art form is very colorful as the performers themselves paint in vibrant colors and use the wooden mask and all the skirt and accessories.
The wooden mask depict faces of Krishna, Narada, Kiratha, Darika or any other famous persons from the Puranas. The jack-fruit tree, Hog plum tree, Coral tree, Alstonia Scholaris or saprophytes are used to make the wooden masks.  The skirts are woven out of plaited grass and some performers may even cover themselves completely with bunch of grasses. They also attach a piece termed as "talla" which give added attraction to the performer. This resembles the appearance of a toothless open mouth attached to the mask. The performers also carry and manipulate long sticks of residuary agricultural produce and is thus called "Kumattikali".  The performance is related to shaiva myth. A old women walks in front of the performance with the help of a stick who symbolizes mother of every being and everything, She is called the "Thamma".
Kummattikali a Famous Mask Dance of Onam Festival
Onavillu made from making arecanut wood into a bow and attaching strings to it is used to produce rhythm for the dance moves. They belong to one of the devotional art forms of Kerala like Theyyam, Thira, Poothamthira, kanyarkali etc. The themes are taken from puranas and include stories from Ramayana, Darika Vadham, the story of Shiva and folk tales like Manjan Nayare pattu.
People of the northen districts of Kerala have the privilege to enjoy these art forms the most because; by tradition Kummatti dances are more rampant in Thrissur district during Onam Festival and in temples of Plaghat district. Let's see few Kummattikali Photos and videos.
Kummattikali Photos of Onam Festival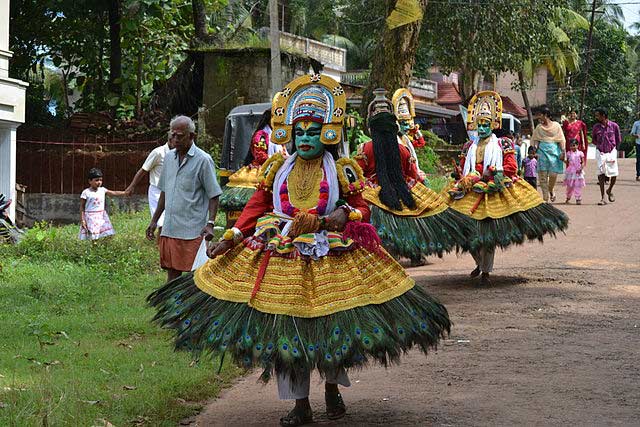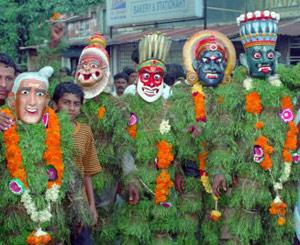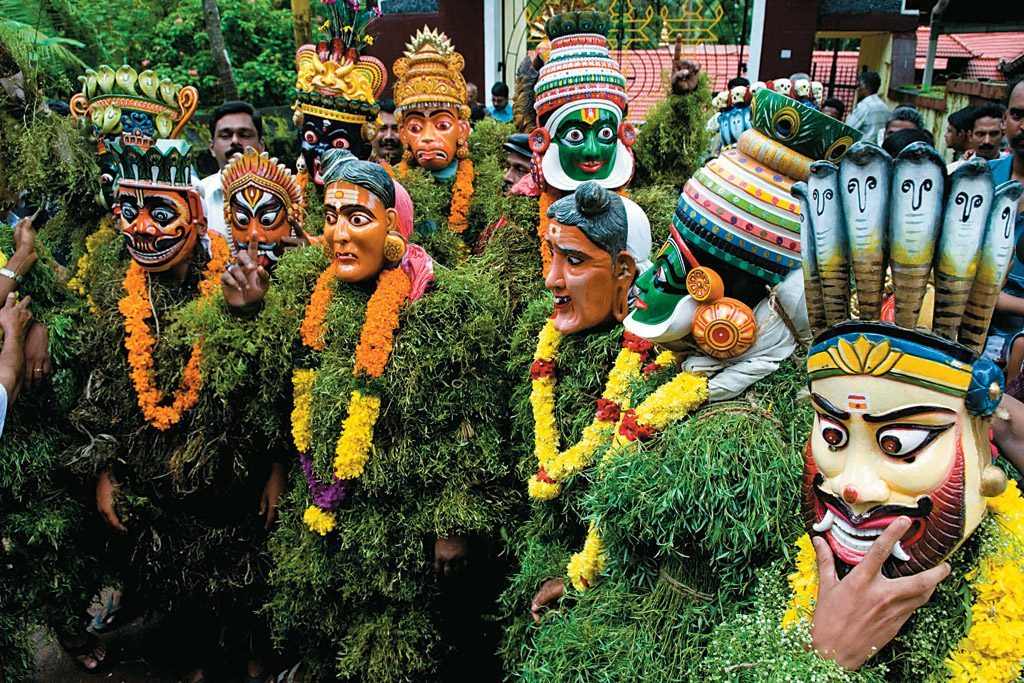 List of Kummattikali Songs
Kummattikali Videos
Hope you all loved reading the article, please do share this article with your friends who are really intrested in knowing about unique onam dances. Subscribe to happy onam 2022 for more updates on onam festival.