Source: Pexels.com/ @Max Vakhtbovych
Are you too lazy or shy to pay a visit to the gym? Then it is time to build one at your home! Having an at-home gym will serve many purposes, such as saving money for a monthly membership, as well as the process and motivation to wake up and head on to the gym. It also helps you have a space and comfort curated by you, making you more excited to be in.
Even though we all know that exercising is not the only way to be healthy. However, a home gym will boost your productivity, and you will be on a health kick in no time. Here are a few tips to kick start your home gym and make it your own!
1. Be Aware of Your Space
To start your home gym, you must consider the space and how the layout of the gym is going to be. The last thing you want is to overcrowd your space with so much equipment. This works if you have a spare bedroom, garage, or any available room that is enough to put items in since you would want the home gym to feel like it is not disrupting your living space.
Before including any gym equipment, you need to visualize your design and where you will place it to prevent you from purchasing unnecessary stuff. It can be tempting due to your excitement at having your own but taking it slow will help save you from any disaster that could happen.
2. Rubber Flooring for Support
An important thing to note is that exercising on hard surfaces will do you more harm than good as, over time, your joints will not appreciate it. It is essential for you to have support, and it is recommended to use rubber flooring for your home gym. Moreover, it helps to protect your home flooring whenever you carry heavy equipment which could potentially dent it.
If you have neighbors, having rubber flooring is crucial as you might disrupt them, and you would not want to experience any complaints on you. So, not only does it act like a cushion during your workouts, but it also makes it feel like you are at a solid gym and get you motivated.
3. Gym Machines and Equipments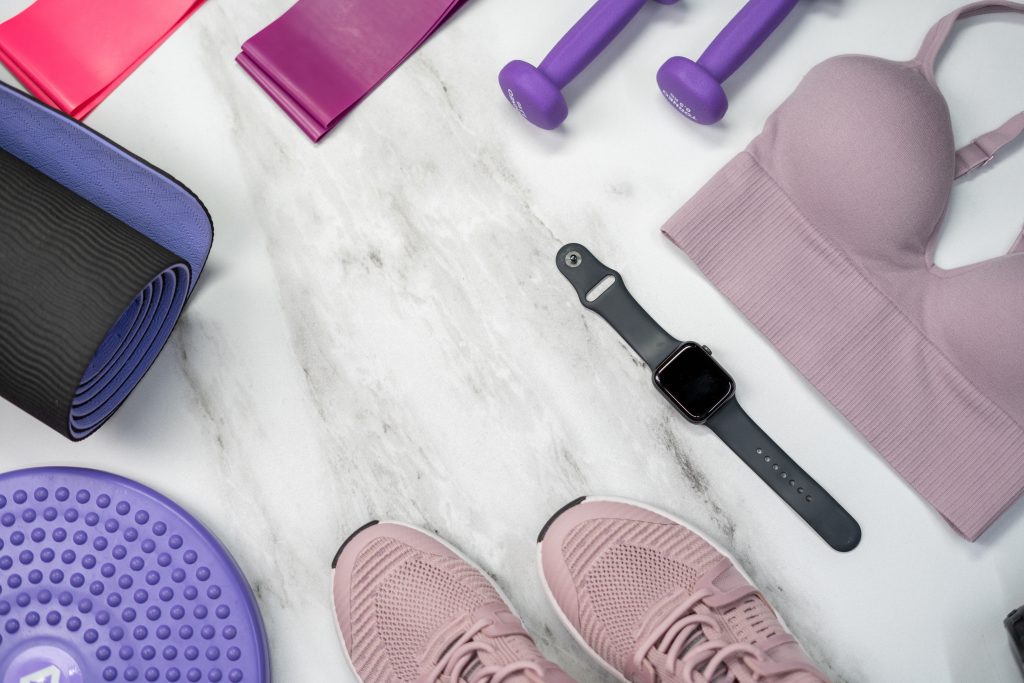 Source: Pexels.com/ @cottonbro
After you have sorted out the design and the basis of your home gym, now is time to incorporate fun stuff- which is gym equipments. When purchasing equipment, you can sometimes tend to go overboard and end up with things you rarely use later on. A tip is to list what you actually need and always start with the basics, such as a yoga mat, resistance band, small weights, and so on. By doing this, you will not regret buying things that will not be put to use, and you get to save money!
Moreover, before making a big purchase on any exercise machines, you need to know what kind of workout routine you always do to get the gist of what device you may need, it can be a treadmill or an elliptical. As these machines are relatively expensive, purchasing one you will be on the most is worth getting first. However, if you find yourself adding another exercise step to your routine, you can consider investing in another.
4. Great Air Ventilation
When working out, you will undeniably produce sweat- and the more you produce it, the stuffier the space will eventually get. So, installing air ventilation or a fan will help circulate the air and produce clean air. Clean air is really beneficial for your health and skin, which we all want, right?
An air purifier does the job well if you want to invest in excellent ventilation. It refreshes the air around you, which can help with the process of your breathing during working out. Brands such as Sharp air purifiers will help ensure you have a great quality device that neutralizes any odors and eliminates harmful chemicals around you, making you breathe only purified clean air.
5. Install a Mirror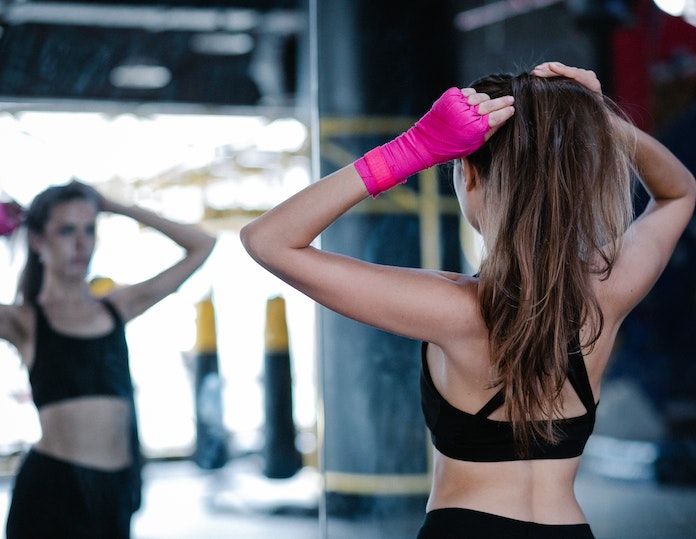 Source: Pexels.com/ @annushka-ahuja
Having a floor-length mirror will instantly make you gravitate towards it as you want to document your progress, whether to lose weight or build up some muscles. You would like to check in and take pictures daily to see how far you have come. In addition, mirrors help create the illusion of making the space wider, accentuating your home gym and making it much better to be in. Your form when working out can also be monitored with a mirror to ensure that you are in the correct posture and not hurting yourself with an incorrect exercise pose.
6. Entertainment and Sound System
An in-home gym is not complete without a great sound system that will surround you while you are breaking a sweat. You don't want everything to be silent because it can get lonely at times, so installing Bose speakers can amp up your environment and boost your overall mood. Moreover, singing along to your favorite song in a loud setting will make you realize that exercising is fun and not dull!
Another form of entertainment that can be installed in your home gym is by adding a TV or a monitor. It can act like a workout class as you can search for different routines or even yoga to follow along. Also, make sure that the TV can move in different positions, so it's easier for you to watch from different angles.
7. Storage and Design
With the amount of stuff you will have in your home gym, a storage system is needed as you will store some items and equipment after exercising. Once you have the ideal one, we recommend labeling them to make it more accessible for the next gym session. Also, as the gym has many heavy-duty items, we want to make the area clean and tidy to look more inviting by using the storage.
For the aesthetic of your home gym, adding little touches of things that you like will look more curated for you. You can add some framed pictures to fill the wall space, and some greenery to liven up the place. So, have fun with the design and decorations because you are the one that will come in and out of the gym often!
Overall, your home gym is a space only for you where you enjoy being active and keeping a healthy lifestyle. Take advantage of the space, and who knows, later, you can hold a workout day with your friends and get everyone to kickstart their own workout journey!