Hello Friends ,in this article you will get "bata mere yaar sudama re mp3 song " as well as you can download bata mere yaar sudama re song lyrics ,youtube video and all the details related to this bhakti haryanvi song.
People are crazy for listening to music, for some people music is their life, passion and everything. We have legends who have given their voices in many languages. Bhojpuri, Marathi, Haryanvi are today's trending music and songs in these languages are loved a lot by music lovers.
Bata Mere Yaar Sudama Re Mp3 Haryanvi Song by Vidhi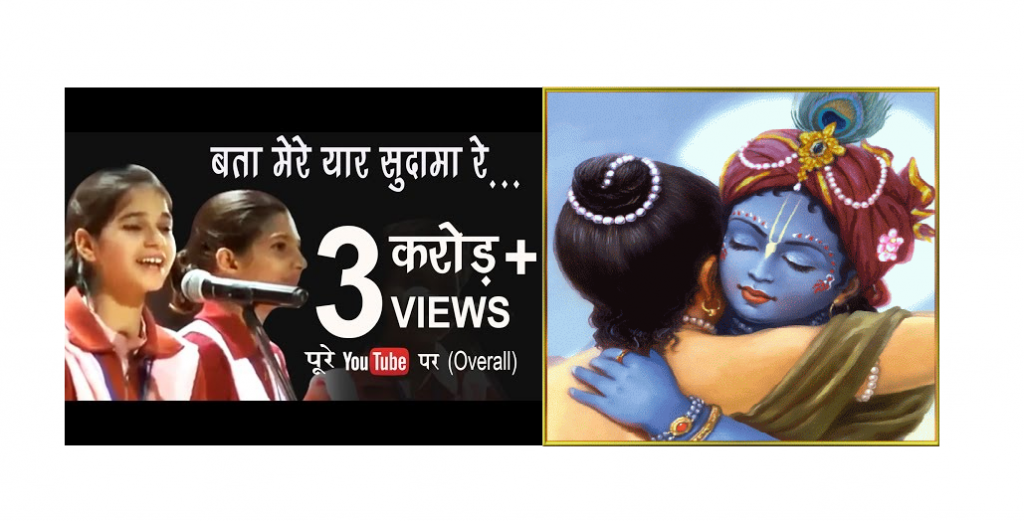 We have a song name "Bata Mere Yaar Sudama Re", which is a Haryanvi song. The voice behind this song is of Vidhi who is a Govt School Girl from Haryana.
You can download the other version that is Bata Mere Yaar Sudama Re by Vidhi, which is also liked by many people. Various music sites are available from where you can download this song.
If you want to watch Bata Mere Yaar Sudama Re Video, you can easily find it on youtube. Thousands of people have already downloaded this song and looking forward for these kind of songs. Composed by Somesh Jangra, this is a bhakti song music.
Download Bata Mere Yaar Sudama Re Song YouTube Video
Bata Mere Yaar Sudama Re Mp3 Song Lyrics
Bata mere yaar sudama re

Bata mere yaar sudama re
 Bhai ghane dinon mein aaya x (2)

Balak tha re jab aaya karta
 Roz khel ke jaaya karta x (2)

Re balak tha re jab aaya karta
 Roz khel ke jaaya karta

Huye ke takraar sudama re
 Bhai ghane dinon mein aaya x (2)

Bata mere yaar sudama re
 Bhai ghane dinon mein aaya x (2)

Manne suna de kutumb kahani
 Kyun kar pad gi thokar khani x (2)

Re manne suna de kutumb kahani
 Kyun kar pad gi thokar khani

Tote ki maar sudama re
 Bhai ghane dinon mein aaya x (2)

Bata mere yaar sudama re
 Bhai ghane dinon mein aaya x (2)

Sab bachhon ka haal suna de
 Misrani ki baat bata de x (2)

Ho sab bachhon ka haal suna de
 Misrani ki baat bata de

Re kyun gaya haar sudama re
 Bhai ghane dinon mein aaya x (2)

Bata mere yaar sudama re
 Bhai ghane dinon mein aaya x (2)

Chaahiye thare tanne pahlam aana
 Itna dukh nahi padta thaana x (2)

Re chaahiye thare tanne pahlam aana
 Itna dukh nahi padta thaana

Kyun bhullya pyar sudama re
 Bhai ghane dinon mein aaya x (2)

Bata mere yaar sudama re
 Bhai ghane dinon mein aaya x (2)

Ib bhi aa gaya theek bakhat pe
 Aaja baith ja mere takhat pe x (2)

Re ib bhi aa gaya theek bakhat pe
 Aaja baith ja mere takhat pe

Ho jigri yaar sudama re
 Bhai ghane dinon mein aaya x (2)

Bata mere yaar sudama re
 Bhai ghane dinon mein aaya x (2)

Aaja bhagat chhaati pe la loon
 Ib bata tanne kade bitha loon x (2)

Ho aaja bhagat chhaati pe la loon
 Ib bata tanne kade bitha loon

Karoon sahukar sudama re
 Bhai ghane dinon mein aaya x (2)

Bata mere yaar sudama re
 Bhai ghane dinon mein aaya x (2)

Ghane dinon mein aaya
 Ghane dinon mein aaya
 Bhai ghane dinon mein aaya