Wedding season is around the corner & we are super excited. Indian attires are super comfortable, eye-soothing, and ready-to-go apparel. With modernisation, Indian wear has also got a fancy makeover. Earlier it was just salwar suits and sarees in the segment. But now you have varieties to choose from. Like Sharara suits, Straight cut suits, Anarkali suits, Punjabi suits, Palazzo suits, Dhoti style, etc. 
Are you a fan of Indian Salwar suits? Of course, that's why you are here, right. So, let's begin with some information about salwar suits for our next buy. 
This list includes the top 8 salwar suits styles: –
Anarkali Suits: Anarkali kurta tops the list being the trendiest. Why is it so popular? It is adorned by everyone. No matter you are thin or chubby. Anarkali style is best to cover your flaws. The more the flares better it is, right. But not for a heavy physique. If you are full-figured, opt for flared, dark, and simple fabrics. Also, length plays a major role. If you are short, don't go for floor-length gowns. Similarly, if you are tall and lean pick one that has heavy embroidery. It will enhance your femineity.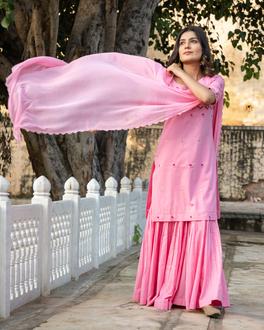 Sharara Style Salwar suits/ Palazzo suits: Are you looking for a unique and elegant piece? Buy a Sharara suit. They are sheering these days. They are an amalgamation of western and Indian attire. If you are bored with your daily wear salwar suits try them. It gives you the appearance of wide skirts with strings if eclectic. Pair them with knee-length kurtas, and you rock. You can wear them in any season and festival. They are super comfy and come in variations of fabrics.
Straight Cut Salwar Suits: This is the most common and neat styled. Whether you are an office woman, college-going, or a homemaker, this look never goes wrong. Straight-cut suits are fitted from the top and are styled with pants, with or without a dupatta. If you are short and want a tall, slim structure opt for this style. 
Punjabi Salwar suits: A classic piece that is the epitome of Punjabi tradition. This has a short-length kurta above knees matched with Patiala salwar or dhoti style pants. Patiala pants look great on lean as well as heavy bodies. If your body is pear-shaped Patiala pants are best as their pleats start from waist to bottom. It came from the Punjab region and is considered royal. Today also Punjabis prefer wearing Patiala's during wedding and occasions.
Front slit suits: This design is a hit. The slit begins from the middle of the salwar, possibly navel, and runs down till the length of the kurta. Pant style, churidars, or skirts bottoms are paired depending upon personal choices. Tall-bodied women should go for these suits. If you are healthy try flowy fabrics like georgette, chiffon, and muslin. They make you look slim and high. If you are short, just grab a glittery heel, and you astound.
Floor-length Salwar Suits: The demand for floor-length suits never decreases. They are the most loved designs when we talk about parties and festivals. There is a lot of effort that goes into this outfit. Delicate cross-stitches with some sheer fabrics are apt for the wedding reception. It makes you stand out from the crowd. You gather tons of compliments. No matter what size and figure you are floor-length is the right choice. Even if you are short, just pair them with heels.
Jacket Style Salwar Suit: Salwar suits paired with jackets are jacket-styled suits. The entire dress can be from the same color family or color contrast. You can wear pants, a dhoti or a palazzo. Jackets are detachable. Hence you can wear suits both ways depending upon the place.
Churidar Salwar Suits: A long fitted salwar's with several wrinkles at the ankle popularly known as "churis." It is combined with straight long kurtas with round or V neck as per body type. Long sleeves make a great choice for thin women. Churidars is one of the oldest suit styles worn to date. They make you look slimmer and taller. You can wear them on daily basis. Cotton and linen fabrics are good for summers and embroidered for special occasions.
Conclusion:
This year get something that changes people's perception of you. Try what's new. There are over 30 styles of salwar suits in the market but there are just a few styles that look great when styled courteously.
The list mentioned above is the chicest. Buy matching jewelry, footwear, and minimal flawless makeup. That's all you need this season to complete your ethnic outfit.
So, treat yourself to some fabulous designs mentioned above, and do let us know about your experience. Don't forget to share it with your friends.