Now a days memes on Narendra Modi are getting more viral on social networking sites, especially on Facebook. The memes are ending with "Abki Baar Modi Sarkar" are more effective and famous. The starting phrase for the memes are made in such a way that it ends with "Aar" pronunciation.
Everybody is trying to make some funny meme on Narendra Modi and sharing it on their Facebook walls especially. People are making funny Modi quotes on Bollywood celebrities, television actors, other politicians from different parties and even cricket players.
Here are few images that will make you laugh surely. Some of these are popular already among fans and few are made by me. I hope you enjoy these Abki Baar Modi Sarkar memes.
Alok nath sikhayenge hume Sanskar, is baar modi sarkar.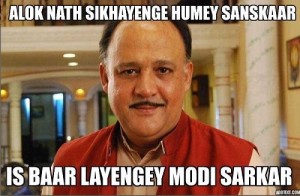 Maximum people cursing yuvraj singh for wt20 final defeat of India against Lanka, so I made this meme from Yuvi. "Dosto kar do muje maaf is baar, abki baar modi sarkar".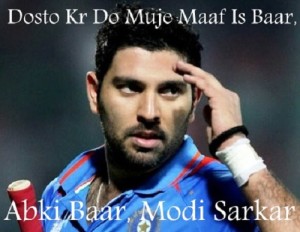 People don't leave even Narendra Modi's opposition party leader in Varansi Mr. Arvind Kejriwal in this meme list. The popular meme is "Chalata Hu Me Car Wagnor, Is baar Modi Sarkar".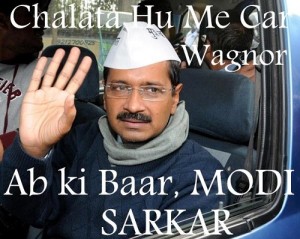 Daya from CID has funny meme "Daya tumhare samne darwazey hain bekar, Abki baar modi sarkar".
One of the best abki baar modi sarkar meme is from Madhuri Dixit's sajan movie's song. the meme is "Dekha Hai Pehli Baar, Saajan Ki Aankhon Mein Pyaar, Ab Ki Baar Modi Sarkar".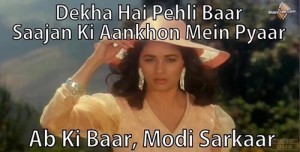 Deepika Padukone has some ex boyfriends, so this meme is made by me on her life. "Ek Annar 100 beemar, Abki Baar Modi Sarkar".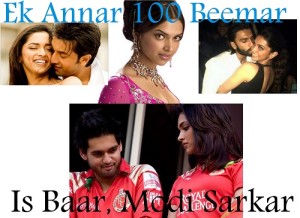 A funny joke about Narendra Modi on his own image, "Safed hai cement kala hai tar abki baar modi sarkar".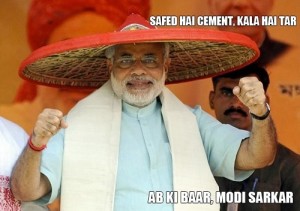 Latest sensation of Bollywood industry Sunny Leone meme is superb also i.e. "Me aayi hu saat samunder paar, Abki Baar modi sarkar".
Famous 3 idiots movie's character Chatur has got joke on Namo also i.e.  "Miracle in Hindi is called Chamtkar, Abki Baar Modi Sarkar".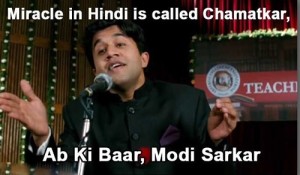 One of the best poem of childhood for every kid is now popular as Narendra Modi's meme. "Twinkle twinkle little star, Abki Baar Modi Sarkar".
At last one of my favourite creativity by me..
"AAP kehte ho baram baar,

Media bikau hai is baar,

Abki Baar, Modi Sarkar"..