Psiphon Pro 3 is an open source tool that circumvents the restrictions on website browsing. Various countries restrict the citizens from browsing certain websites that have content violating certain standards. Psiphon 3 APK comes across as a very useful tool for such countries. Using VPN, SSH and Proxy server tunnels, Psiphon provides you a simple tool to view all the blocked content on websites.
Psiphon Pro 3 APK is the latest version of Psiphon available to give you seamless browsing access to any restricted content. Psiphon Pro 3 APK is basically a tool for the Android users. It allows the user to connect to proxy servers without letting the Internet service provider know about the browsing details.
Psiphon opens up all the websites to you irrespective of your location.
What is Psiphon Pro 3 APK and How to Download?
Many proxy settings and browsers or VPN's are available that can hide the content you are trying to browse. But they are not leak proof and may at time become a trouble for you if the Internet Service Providers track them down.  While the VPN can very well hide the content your browsing the ISP gets to know that you are using a VPN. This is where the Psiphon takes a lead. No one gets to know that you are using a Psiphon.
The regulatory bodies that have censorship teams in cyberspace are regularly on watch of VPN's and Proxies. Amidst all this Psiphon cannot be detected. Psiphon is currently available for both Android and Windows PC. Primarily marketed as an Android tool, Psiphon rapidly grew in popularity and now lots of Emulators support using Psiphon on Windows system.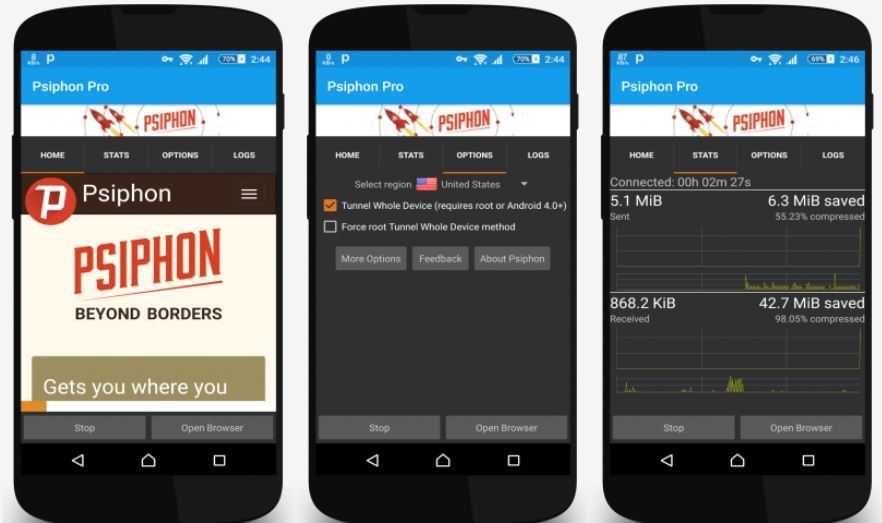 What are Psiphon Protocols?
Psiphon Pro 3 primarily works on 3 protocols, the VPN, SSH and SSH+. It does not allow the user to choose out of them, but automatically connects to the fastest tunnel. Although on Windows PC only VPN protocol is available. To know more about functioning of psiphon, click here.
Download Psiphon Pro 3 for Windows:
Make sure you download Psiphon from the authentic Psiphon website http://www.psiphon.ca.
While downloading click on the Windows option.
You can verify the file is authentic or not by verifying SHA-1 hash.
You can download Psiphon Pro 3 both on Windows as well as Android devices.
Features and Reviews of Psiphon Pro 3:
With more than 200 countries have millions of Psiphon users to access unlimited and unrestricted web browsing. The features and reviews from users make it the top tool in its niche:
Psiphon is and open source proxy server that remains undetected by the ISP.
It is free and does not use and registration also. You can share your ID password with your friends in any part of the world and they can use it to gain unrestricted access.
The speed of the internet is not at all effected by use of ISP.
You do not need to root your android phone to use Psiphon.
Extremely easy to download and use with a user friendly UI.
Track the data usage and in app stats tracking.
Whether you choose to use Psiphon on Windows or android device, the tool provides you seamless access to internet without any censorship issues.
Save