First of all Onam Ashamsakal to every one on behalf of Happy Onam 2022. Malayalees all over the world is about to celebrate their harvest festival "Onam". Onam 2022 is going to be the best onam in past 10 years because of many reasons. Mallus are busy preparing for the onam festival which is about to happen on Aug 30, 2022. All Educational institutions including professional colleges will be granted with 10 days of leave. Onam 2022 holidays starts from Aug 30, 2022. Have you prepared the list of relatives to be invited ? So how are you going to greet them ? Don't worry in here you will get the answer of that question.  In here we would list some of the best Onam Ashamsakal for wishing your elders. Onam Ashamsakal is the malayalam word of wishing Happy Onam. Check some of the typical Onam Ashamsakal .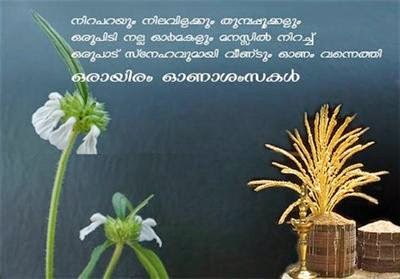 "എല്ലാവര്‍ക്കും എന്‍റെ ഹൃദയം നിറഞ്ഞ ഓണാശംസകള്‍" !

***Oru thumbapoovinte chiriyayi***
******Thiruvona naal vannethi******
******Ente priya suhruthinu*******
*******Hridayam niranja*******
*~*~~*~*Onashamsakal*~*~~*~*

May the spirit of Onam remains everywhere whatever you do, whatever you think whatever you hope in your life "Wish you a Happy Onam"

ee onam aishwaryathindeyum samruthiyudeyum pookaalamayi maratte….
ella anugrahangalum deivam tharatte ennu prarthanayumayi yettande
swantham muthu…

Thumbapoo poothunilkunna nattuvazhiyude ormakalumayi veendum oru ponnonam varavayi aiswaryathinteyum sambal samruthiyudeyum onasamsakal


O–ORumayude
N–Nanmayude
A–AGhoshangalude
M–Malayaliyude
Onam Varavayi !!!HAPPY ONAM!