Independence Day is one of the most proud and memorable moment for India as the citizens of India got free that day by the Britishers. India got Independence Day on 15th August 1947 and since then it is celebrated as a happy day in our country.

Fresh Independence Day Quotes in English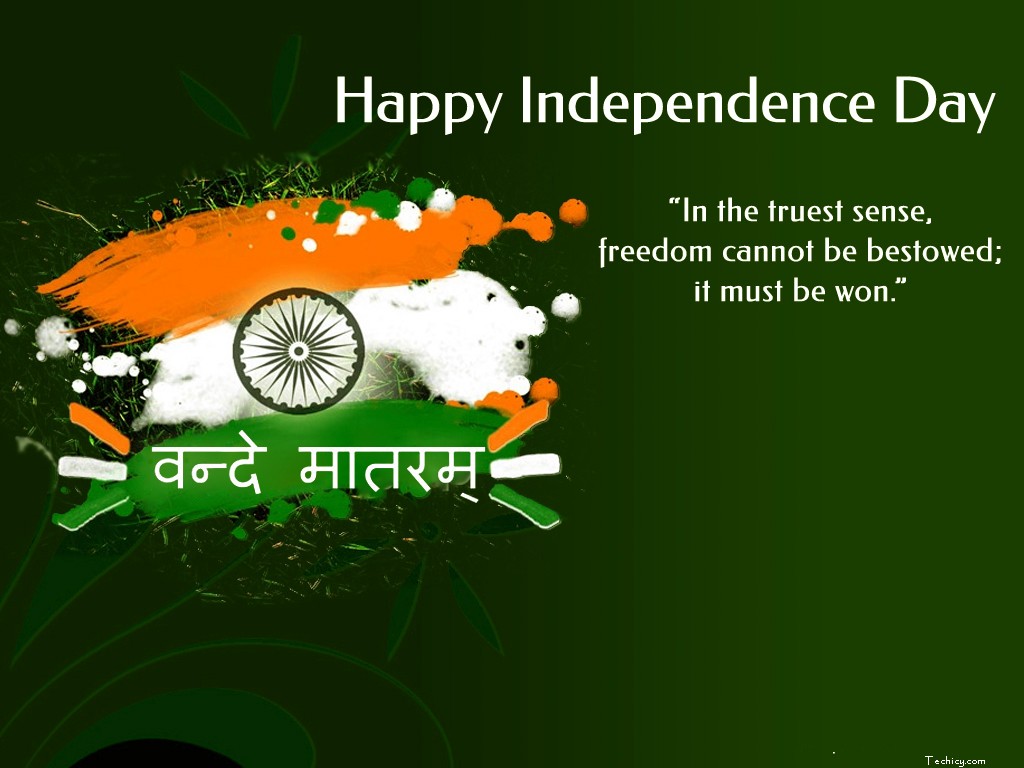 "Freedom has its life in the hearts, the actions, the spirit of men and so it must be daily earned and refreshed – else like a flower cut from its life-giving roots, it will wither and die." – Dwight D. Eisenhower
"Thy spirit, Independence, let me share! Lord of the lion-heart and eagle-eye, Thy steps I follow with my bosom bare, Nor heed the storm that howls along the sky." – Tobas George Smollet

"For some days, people thought that India was shaking. But there are always tremors when a great tree falls." – Rajiv Gandhi
"India is the cradle of the human race, the birthplace of human speech, the mother of history, the grandmother of legend, and the great grand mother of tradition. Our most valuable and most astrictive materials in the history of man are treasured up in India only!" – Mark Twain
Indian Independence Day Quotes in English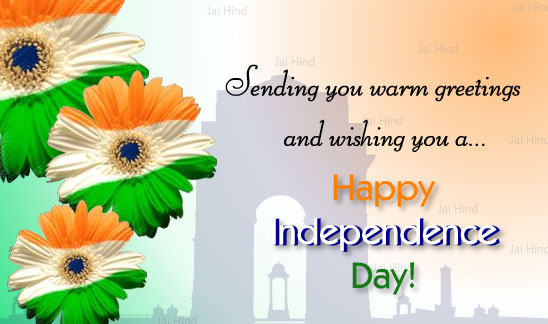 "If there is one place on the face of earth where all the dreams of living men have found a home from the very earliest days when man began the dream of existence, it is India." – Romain Rolland

"Ask not what your country can do for you. Ask what you can do for your country." – John Fitzgerald Kennedy. Also get 15th August Status for Whatsapp.

"One individual may die for an idea; but that idea will, after his death, incarnate itself in a thousand lives. That is how the wheel of evolution moves on and the ideas and dreams of one nation are bequeathed to the next" – Netaji Subhash Chandra Bose
"We end today a period of ill fortune and India discovers herself again. The achievement we celebrate today is but a step, an opening of opportunity, to the greater triumphs and achievements that await us. Are we brave enough and wise enough to grasp this opportunity and accept the challenge of the future?" – Jawaharlal Nehru
"Fourscore and seven years ago, our fathers brought forth on this continent a new nation, conceived in liberty, and dedicated to the proposition that all men are created equal" – Abraham Lincoln
"He that would make his own liberty secure, must guard even his enemy from opposition; for if he violates this duty he establishes a precedent that will reach himself." – Thomas Paine
"We on this continent should never forget that men first crossed the Atlantic not to find soil for their ploughs but to secure liberty for their souls." – Robert J. McCracken
"This, then, is the state of the union: free and restless, growing and full of hope. So it was in the beginning. So it shall always be, while God is willing, and we are strong enough to keep the faith." – Lyndon B. Johnson
There are many ways through which we can celebrate Independence Day like by appreciating and remembering the freedom fighters and praying for them. People who are Indian but living in foreign country also celebrates Independence Day and today we are going to see that which are the ways through which you can wish your relatives or buddies.

You can send
Independence Day Quotes
to your friends, family and relatives who are far away from you. You can even send
quotes on Independence Day in Hindi
and if you want to send messages in English you can find it on net and send
Indian Independence Day in English.
15 August Independence Day Quotes in Hindi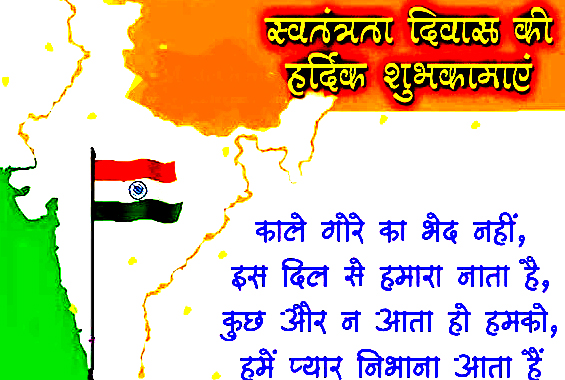 Na Sar Jhuka Hai Kabhi
Aur Na Jhukayenge Kabhi ,
Jo Apne Dum Pe Jiye,
Sach Me Jindagi Hai Wahi,
In This Day Think Of Our Past ,
And Try To Built Better Future For All Of Us,
It Is A Duty Of All Of Us !
I Am Proud Be An Indian.
Tairna Hai To Samundar Mein Tairo,
Nadi Naalo Mein Kya Rakha Hai,
Pyaar Karna Hai To Desh Se Karo,
Chalo Phir Se Aaj Wo Nazara Yaad Kar Le,
Sahido Ke Dil Me Thi Jo Jwala Use Yaad Kar Le,
Jisme Behkar Aazadi Pahunchi Thi Kinare Pe
Desh Bhakto Ke Khoon Ki Wo Dhaara Yaad Kar Le
15 August 2020 Mubarak Ho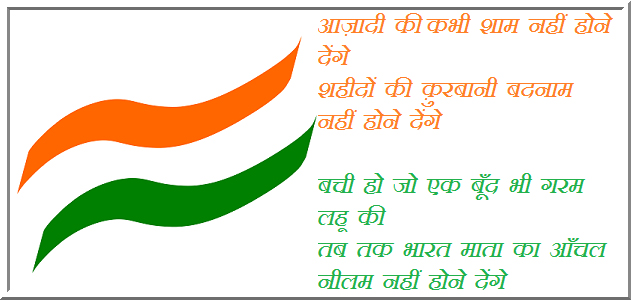 Iss Duniya Mein Hai Aashiq Kai,
Par Watan Se Pyaara Koi Sanam Nahi,
Tirange Me Lipat Kar Mar Jaun Main,
Kyunki Isse Pyaara Kafan Nahi Koi
Happy Independence Day 2022
Bharat Ki Pehchaan Ho Tum ,
Jammu Ki Jaan Ho Tum.
Sarhad Ka Armaan Ho Tum,
Delhi Ka Dil Ho Tum,
Aur Bhaarat Ka Naam Ho Tum
Happy Independence Day 2022
Anekta Mai Ekta Hi Hamari Shaan Hai,
Isiliye Mera Bharat Mahan Hai.
Jai Hind Jai Bharat
Happy Independence Day 2022
Ye Baat Hawao Ko Bataye Rakhna
Roshni Hogi Chirago Ko Jalaye Rakhna,
Lahu Dekar Jiski Hifajat Hummne Ki,
Aise Tirange Ko Sada Dil Mein Basaye Rakhna.
Kya Hindu Kya Muslim
Kya Sikh Kya Isai
Mere Bharat Maa Ne Kaha Tha
Chalo Phir Se Aaj Wo Nazara Yaad Kar Le,
Sahido Ke Dil Me Thi Jo Jwala Use Yaad Kar Le,
Jisme Behkar Aazadi Pahunchi Thi Kinare Pe
Desh Bhakto Ke Khoon Ki Wo Dhaara Yaad Kar Le
15 August 2022 Mubarak Ho
Let us look at a short history about Independence Day.
About Independence Day
Declared as National Holiday in India, on that day Jawaharlal Nehru became the first Prime Minister of India and he raised our National Tricolour Flag of India at the top of Lahori Gate of Red Fort in Delhi. Since then every year the prime minister have the privilege of raising the Indian Flag and make all of us proud.
We celebrate Independence Day by distributing sweets, attending flag-hosting ceremonies, singing patriotic songs and cultural events. Every school, college in India celebrates this day in which students dance on various melodious patriotic songs and they give respect to legends who fought for us.
If you want to set your WhatsApp or Messenger Status you can search for short quotes on Independence Day 2022.  Sending 15th August Quotes in Marathi, Hindi, Bengali, Gujarati, Punjabi and more will represent the languages of our country. Download Speech on Independence Day 2022 Pdf from webend.in website.
Marathi Independence Day Quotes 2022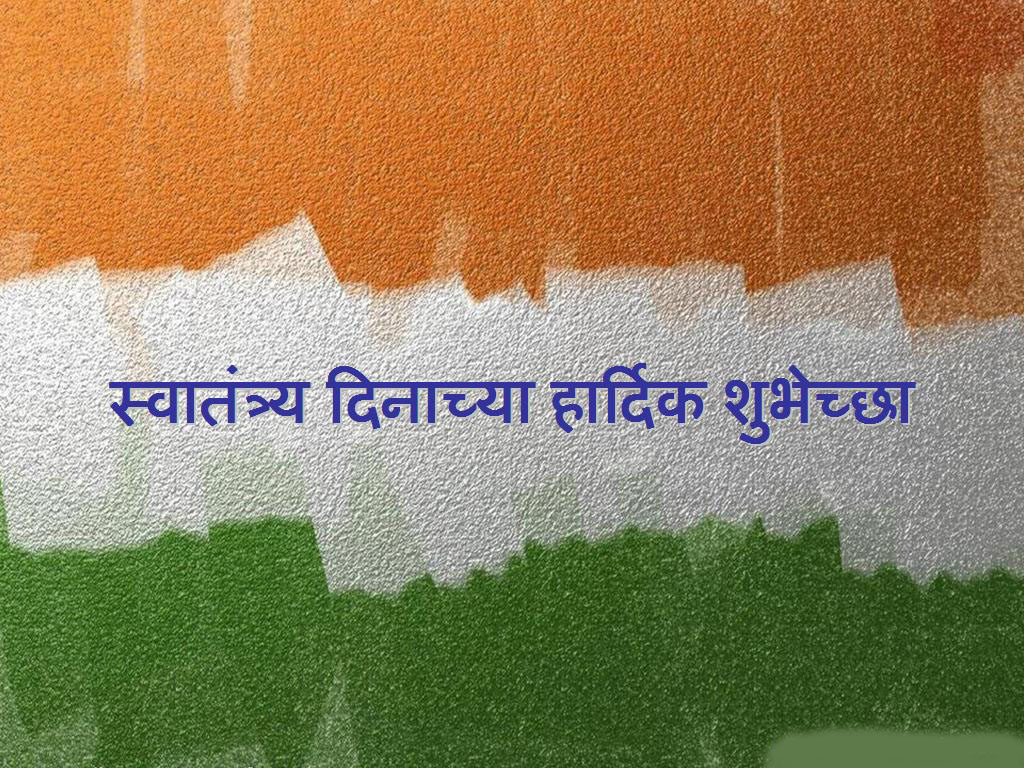 आम्ही या देशाची तरुण पिढी शपथ घेत आहोत..
कि आम्ही आमच्या शेवटच्या श्वासापर्यंत;
आतंकवाद, भ्रष्टाचाराशी लढत राहूत…
आम्ही आमच्या भारत मातेचं संरक्षण करत राहूत.
जय हिंद….जय भारत..!!!
स्वातंत्र्यदिनाच्या हार्दिक शुभेच्छा…
बाकीचे विसरले असतील,
पण मी मात्र कधीच विसरणार नाही,
माझ्या देशाचा तिरंगा ध्वज;
सर्वात उंच फडकतो आहे….
स्वातंत्र्यदिनाच्या हार्दिक शुभेच्छा…
Download Independence Day Quotes in Marathi Font from our webend.in
Swtantrydinnchya Sarvana Hardik Shubhechchha, Vicharanch Swatantray, Vishvas Shabdanmadhe, Abhimaan aatmyacha… Chalaa yaa swatantry Dini Salaam karuyaat aaplya Mahaan Rashtrala. JAi Hind
Phool sukatei, gavat walate
Pan maitarichaiya pavitra nagarit zalelii olakha kayam rahaite,
Kadhi hasayacha asate, Kadhirusayacha asat,
Maitarirupi ruksala aayushbhar japayacha asat.
महाराष्ट्रात राह्यचं असेल तर 'जय महाराष्ट्र' म्हणा.
मराठी मानुस काय करू शकतो हे विचारण्या पेक्षा,
आपण मराठी माणसा साठी काय करू शकतो ह्याचा विचार करा.
मला आहे मराठीची जाण,
महाराष्ट्रात माझा जन्म झाला हाच मला अभिमान.
स्वातंत्र्यदिनाच्या सर्वांना हार्दिक शुभेच्छा… .
विचारांचं स्वातंत्र्य , .विश्वास शब्दांमध्ये, .अभिमान आत्म्याचा… .
चला या स्वातंत्र्य दिनी सलाम करूयात आपल्या महान राष्ट्राला…
विचारांचं स्वातंत्र्य ,
विश्वास शब्दांमध्ये,
अभिमान आत्म्याचा…
चला या स्वातंत्र्य दिनी सलाम करूया आपल्या महान राष्ट्राला..
स्वातंत्र्यदिनाच्या सर्वांना हार्दिक शुभेच्छा…
WATAN HAMARA MISAAL MOHABAT KI
TODTA HAI DEEWAAR NAFRAT KI
MERI KHUSH NASEEBI
MILI ZINDAGI IS CHAMAN MEIN BHULA NA
SAKE KOI ISKI KHUSHBO SATON JANAM MEIN
HAPPY INDEPENDENCE DAY!
Bharato mam deshosya
bharatiyachya bandhwa
paranurakti rasmin me deshasti mam sarvada
utsav teen rangacha abhadi aaj sajla
natamastak mee tya sarvashathi
jyani bharatdesh ghadvila
happy independence day 2022
So, we wish all the people a very happy Independence Day 2022. Enjoy!