Diwali is a festival of crackers, lights and sweets, but these days people like to do lot of shopping on this festival too. Companies also comes up with exciting offers to increase the sales. This is the time of the year when you'll see many exciting offers and discount deals offered by the companies. We have decided to put up all the Diwali 2022 offers at one place, so you can take benefit of these offers and get the best deal on your next purchase. Below are the Diwali offers 2022 announced by the different companies. If you know about any ongoing Diwali or Dussehra offer, do share with us in the comments below.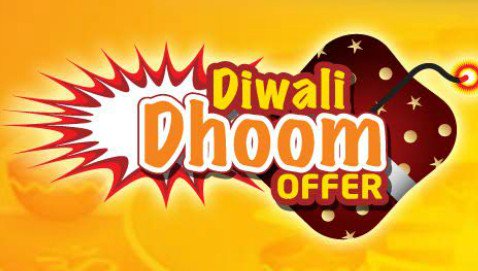 Nokia Diwali offer 2022: Nokia is also running few Diwali offers. Buy a Nokia Lumia or Asha series smartphone and get gifts to add color to your festive season. Following offers are available:
Buy Nokia Lumia 610 and get philips headset worth Rs. 1499/-
Buy Nokia Lumia 710 and get Bluetooth stereo headset BH-111 worth Rs. 2110/-
Buy Nokia Lumia 800 and get Nokia Purity headset by Monster worth Rs. 5110/-
Buy Nokia Lumia 900 and get Nokia J Bluetooth headset worth Rs. 5570/-
Buy Nokia Asha 305 and get Yatra.com travel vouchers worth Rs. 4500/-
Buy Nokia Asha 308 and get Yatra.com travel vouchers worth Rs. 4500/-
Buy Nokia Asha 311 and get Yatra.com travel vouchers worth Rs. 4500/-
For more info on Nokia Diwali offers visit this page.
HP Diwali offer: HP has come up with an exciting offer this Diwali. HP is giving away Niko CoolPix 16 MP camera worth RS 6.950/ free on selected HP notebooks and desktop PC models. Below are the terms to avail this offer.
Whirlpool festival offer: Whirlpool, one of the largest home appliances manufacturer has also announced it's Diwali festival offer named "A kitchen in your honor". During this festival season, if you purchase any Whirlpool product, you'll receive a branded iron worth RS. 995 as an assured gift. Besides this assure gift, you'll also receive a scratch card. Through this scratch card, 1200 lucky Whirlpool customers can win kitchen appliances and 5 lucky winners will get a Kitchen makeover worth RS. 2.5 lakhs. So, this is a good deal if you are going to buy any home appliance this season.
For more details you can SMS 'WIL ‹ your city› ‹ your name›' to 56161
Mahindra scooters free petrol offer: Mahindra has also come up with an exciting offers. If you buy any Mahindra scooter this Diwali season, you'll get free patrol worth rs. 2,000.
Samsung smart home celebrations: Samsung, the leading electronics products company has also come up with many exciting offers. Smart home celebration offer will run from 1st November to 18th November 2020. Samsung is offering many deals, which are listed below:
Get Samsung Galaxy tab 7.0 free on purchase of Samsung smart TV.
Buy a Samsung 3D TV and get internet enabled 3D Blu-ray player with 3D movie pack worth Rs. 10.990/ free.
Buy any home theater system or 32″ or above panel TV models and get 51 movies DVD pack for free.
Buy Samsung 40ES5600 OR 46ES5600 LED TV and get Skype camera and Wi-Fi dongle worth Rs. 9500 free.
Buy a Samsung side by side refrigerator and get a Galaxy tab 7.0 free.
On purchase of frost free & direct cool refrigerators OR front & top loading washing machines, you will get  a Samsung mobile GT-1200T free.
If you are going to buy Air conditioned, you will get free installation from Samsung under this offer.
For further information visit this page OR call Samsung helpline 190030008282
These are just few of the offers announced by the companies. We'll add more offers by different companies soon. Don't forget to share with your friends, join us on Facebook for more updates.Do you like this story?