You love to listen the Pop song number of times and enjoy the music a lot. Pop song originates in western part of the world and become popular in all over world loved by everyone. Here comes a new emerging trend that is, Cringe Pop music. What is Cringe Pop? It is a kind of music with poor lyrics and really really bad voice. Now a day its become sensation with upcoming new comer Dhinchak Pooja. A girls which sings so badly with complete non sense lyrics which people listen with much hatred way.  Like Tahar Shah from Pakistan she's the one from India which sings completely useless songs having no sense of lyrics at all.
Don't Miss –Zaira Wasim Age Height – Wiki, Biography
Latest Update :- OMG! OMG! another ear attack by Dhinchak Pooja Song "Aafreen Bewafaa Hai". Yes BB11 contestant Dhinchak Pooja came up with new song.
Check Aafreen Bewafaa Hai Song video below.
A new song Dilon ka shooter is released by Dhinchak Pooja on 25 June 2017. You can go and check below.
New– Dilon Ka shooter Lyrics and YouTube Video by Dhinchak Pooja
Famous Dhinchak Pooja Biography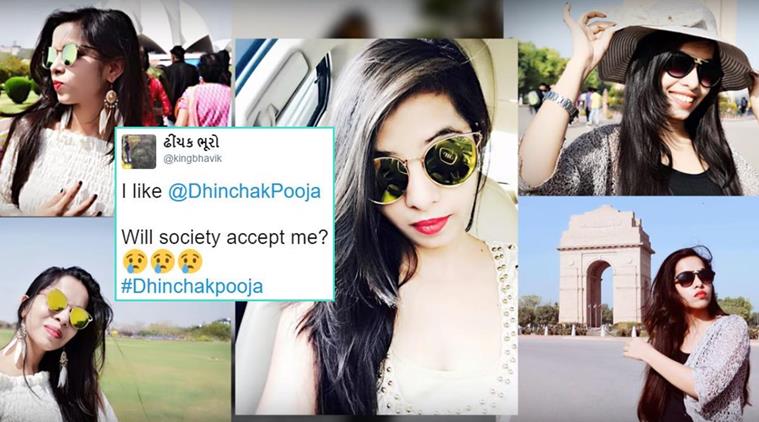 Dhinchak Pooja is born and brought in New Delhi. Few years ago she decided to make her debut in YouTube and earn money by singing such songs. She became famous out of hatred and people seeing her videos and sharing it on social media. She became sensation in world of social media with her video songs. Her singing and choice of lyrics are so bad but still people are liking and sharing her videos.
Profile of Dhinchak Pooja
Dhinchak Pooja Real Name – Pooja
Famous as– Dhinchak Pooja
Live in– New Delhi, India
Birth Place– Delhi, India
Profession– Singer, Wrapper
Height– 152 cms
Weight– 44 kilograms
Date of Birth– 16 December
Age– Unknown
Zodiac Sign– Sagittarius
Debut Song– Swag Wali Topi
Family Details– Unknown
Religion– Hindu
Marital Status– Unmarried
Below you can get her social profile links.
SOCIAL PROFILES
Dhinchak Pooja Instagram -https://www.instagram.com/dhinchakpooja/
Dhinchak Pooja Youtube link -https://www.youtube.com/channel/UC-stzLwoQF_R8Vnfb28d7Lg
Dhinchak Pooja Twitter Id – https://twitter.com/DhinchakPooja
Dhinchak Pooja with Horrible Voice and Extraordinary Confidence
She is a girl which doing rap just for seek of public attention via social networking sites. She has such a horrible voice but had an extraordinary confidence. She always wants to become a rapper that's why her friends are supporting her in this non sense and meaningless songs. She has no talent of singing at all but still she is making her place in media. She uploads her  albums on YouTube  so as to grab attention. Her albums includes Swag Vali Topi , Selfie Maine Le Li Aaj , Daaru. Her three are out till now and people are listening to it I don't know how?
CHECK THIS :- Sabse Sasta 4G Mobile : 2017 Top 5 के सबसे सस्ते 4G फ़ोन
There's a genre for this kind of music : Cringe pop. She joins the list of most annoying music sensations like Pakistan's Taher Shah aka the Angel or Eye to Eye singer or US teen Rebecca Black who started the whole idea of bugging the hell out of music lovers.
The difference between them and her is she is deliberately cringeworthy. This girl is singing as bad as she can so that everyone thinks she is crazy. She knew that by acting like this she would get viral. She used the best marketing concepts. A genius. Please don't make her famous. We don't want another KRK for the music industry.
Main Points about Her:
Dhinchak Pooja is girl born & live in delhi who have some rich friends to support his stupid acts
Dhinchak Pooja is another girl , seeking people's attention through social networking sites, She uploads her so called albums there , and tries to grab attention
Her albums includes Swag Vali Topi , Selfie Maine Le Li Aaj , Daary Daaru Daaru.
She Keeps Doing Non-Sense things like one & Only KRK.
The Whole Social Media nowaday Trolling Her with full of Joys and making her Mems.
Her Dream was to be an rapper so she is rapping but her voice and the Music Video is too bad.
This is a type of genre in music 'Cringe Music' like earlier Pakistan's Taher Shah aka the Angel or Eye to Eye singer or Rebecca Black from US started the whole idea of Cringe music. This girl is singing so badly with complete craziness.
She has earned a huge amount of money at this young age by creating her sensation in the world of social media with her songs. She uploads her music album on You Tube under YouTube Revenue Share Program of Google. She is earning money by every video you are seeing on You Tube. She is making her name and gaining popularity of nowhere by the most annoying voice of India.
Here Debut songs were first came in year 2016. The list of her songs is as:-
Swag Wali Topi
Daaru
Selfie Leli Aaj Maine
Dhinchak Pooja's Latest Song "selfie maine leli aaj" which can be listen online available on YouTube.  We have provided all the information we have about her. Still media and various sites are researching on her. Hope people get courage and patience to listen her creepy songs. What do you say about her voice and confidence ?,comment down your views.
Dhinchak Pooja Meme Jokes Images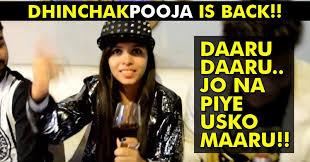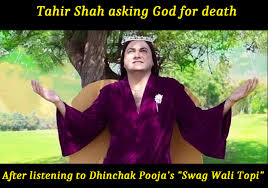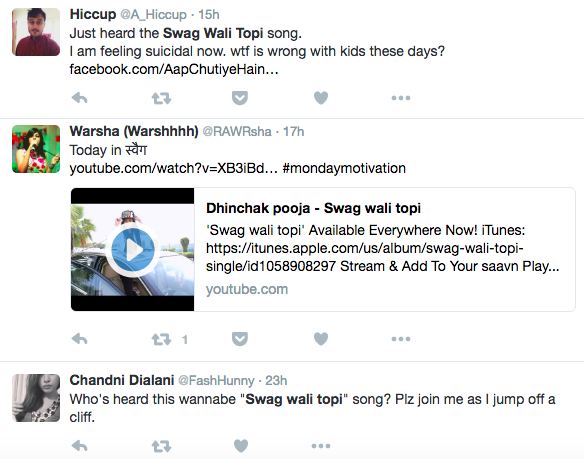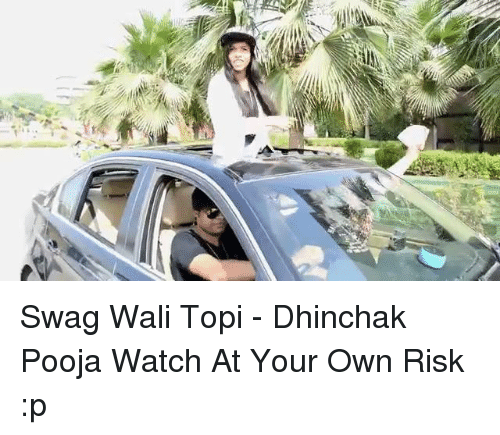 Dhinchak Pooja Youtube Videos – Watch and Review
Dilon ka Shooter – Dhinchak Pooja Latest Song

Omg, guys Dhinchak Pooja has released a new song which you can watch and listen everywhere with negative (funny) comments by users (hahahaha). Dhinchak Pooja New Song Name is – "Dilon ka shooter hai mera Scooter ".
About this song :-
Song : Dilon Ka Shooter
Singer : Dhinchak Pooja
Lyrics / Music : Dhinchak Pooja
Release Date : Jun 25, 2017
Country : India
Language : Hindi
Dilon ka shooter Lyrics
Dilon ka shooter hai mera Scooter
Dilon ka shooter aa aa (x2)
Mujh sa na hai koi cute
Dilon ka shooter aa aa
Dilon ka shooter hai mera Scooter
Dilon ka shooter aa aa (x2)
Mujh sa na hai koi cute
Dilon ka shooter aa aa
Dilon ka shooter hai mera Scooter
Dilon ka shooter aa aa (x2)
Dilon ka Shooter YouTube Video
Video has been removed. 🙁
Dhinchak Pooja is back with her new song "Baapu Dede Thoda Cash"
Another ear attack song has been added in history of YouTube by lady Dhinchak Pooja. Just listen once if you want to live your future life.
You can get the Baapu Dede Thoda Cash lyrics and try to record your own song.
Baapu Dede Thoda Cash YouTube Video
https://www.youtube.com/watch?v=Hh02qDqEtFQ