BMW I Concept Models I3 and I8 to Launch in Canada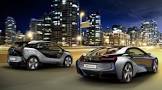 BMW brand is going to launch two new bmw I concept cars i3 and i8 in Canada.These two models will set new records for bmw in luxury car segment in Canada specially.
Later this year BMW introduce I concept model cars in Canadian International Auto Show.Brand also explains that BMW i concept is developed to offer sustainable mobility to vehicles.Both BMW i3 and BMW i8 are coming with low weight technology.These models body are constructed by using carbon fiber material.
Common features of bmw i3 and i8 :-
The exterior designer of these models Mr. Richard Kim told that designing made some changes to technological basis,they called it a package.Divider less flat floor with bench seats in these BMW I concept models make capacious entry and exit in the car.This time developers use narrow tires to provide more flexibility in parking of the car.
BMW designers and developers use natural fibers more in these I concept vehicles.Carbon fiber material reduces the weight of car and and make it more lighter in use.This also increases the performance of car.Hydro electricity power plant is used in i3 & i8 models of BMW.
BMW I3 concept car review and features:-
This bmw I concept car will be released in Canadian International Auto Show in Tornoto after few months.Hence it is already mentioned above that i3 model is electricity powered car.When car is full charged it can travel the distance of 160 KM.
I3 engine will generate power speed to travel the car 0-60 Kilometers/hour in just four second short period of time.The interior of car can give you luxury feeling experience .It is designed so beautifully with row material like carbon fiber.The car has "U shaped" lights into the bumper with LED technology.
The model can be completed fully charged in six hours.but an interesting fact that 80% battery will be charged in just only one hour.
Review of BMW I8 model:-
BMW i8 is one of the most demanding sports concept car of its time.BMW Edrive technology is used in the car for generating power.The model can travel upto 100 kilometers/hour in near about 4.5 seconds.One 3-cylinder combustion engine is used which produces 220 horsepower.The fuel economy for the car is 100 KM./2.7 litres.
This bmw i8 model is also light weighted car.Carbon fiber material used in car allows wing doors with the support of small hinges.The headlight of car is 1000 times more intense than LED.Blue laser light technology is used for headlight development.This bmw i concept model will give much better performance by its powerful engine.