We are living in a smartphone era. You may be treated like an alien if you still use basic handsets in public. There was a time when people thought owning a phone as a symbol of richness. But now, you can't find anyone (excluding newborn babies) who has no mobile phone. So, it has evolved as a fundamental necessity from the sign of luxuriance.
Mobile phone widened its reach abruptly. Small phones were a fashion at a time. But now, people think phablets speak a lot about one's economic background. (Though it is not the actual story, ordinary people think that way).
Mobile phone manufacturers are launching smartest phones day after day. Hence, it is hard for anyone to pick the best from a long list with virtual hands- on experience only.
Here, I am presenting five best smartphones under 15000 Indian Rupees (226 us dollars). Let me say you one thing, don't believe specs and features. They betray you. You can't expect a phone with best- in- class specs to be the best in performance too. User experience is what matters the most. That's why I took extra effort to make this post justifies the title.
Let's get started.
#1. Motorola Moto G 3rd Gen
Motorola was not in the limelight for a long time until the launch of Moto G first generation. They were the first to sell a mobile phone. But they had to satisfy themselves with the glorious past for a long time. The company was sold out to Google for not making the profit.
Brains of Google worked smart. People worked hard for a desirable budget smartphone. That's how Moto G first gen was launched. After bringing back all the grandeur, Google sold the big thing to Lenovo.
It was under the supervision of Lenovo guys that the third gen came to markets. Let me take you deep into its features.
The very first factor you will notice is the simple design. The physical buttons are placed as usual. On the back, there is a short strip that includes camera and LED flash as well. It adds uniqueness to the design.
It is the best comparing with first and second gen. The phone has a 5 inches HD display with a decent pixel density (294 ppi). With Snapdragon 410 quad- core processor, multitasking can be done without any jerks. RAM is 2 GB. Unlike the pioneers, it has got a 16 GB internal memory and SD card support up to 32 GB.
The rear camera is 13 MP and front are 5 MP. Both the cameras are pretty good, and the camera UI is feature rich. No matter what it is easy to use also.
Moto G 3rd gen can give a decent battery backup with its 2470 mAh battery. This is a dual SIM phone with 4G connectivity. Remember the fact that every Android update is first given to Moto phones.
#2. Xiaomi Mi4
Xiaomi has got a huge fan base in India. Their Mi3 was a super hit smartphone. They rewrote the attitude of Indians towards Chinese smartphones. Xiaomi concentrates mainly on budget smartphones. Considering the performance and features Xiaomi smartphones offer, we can't deny the fact that they are the best budget smartphone manufacturer.
Xiaomi Mi4 (16 GB) is the best phone you can bag if you are searching for a budget smartphone under 15K. The design is pretty simple, and a metal bezel adds a premium look to the device. Xiaomi Mi4 is powered by Snapdragon 801 chipset. To boost the power, it has got a 3 GB RAM also. Now, you can imagine the flawless performance of this smartphone.
It has a 5 inches full HD display which is efficient to showcase natural colours. Mi4 has a remarkable camera. The handset uses dedicated CMOS technology by Sony to enhance the details and clarity of the images. The camera is also capable of recording 4K videos. The front camera is 8 MP, and back camera is 13 MP. This phone uses high dynamic flash to add a natural feel to the images taken in low light. (It takes one picture with flash and one without. Then, combines them to show natural colours).
If you don't like stock Android UI, purchase this phone without any doubts. Xiaomi has a dedicated UI called MIUI. Mi4 has got MIUI 6 on top of Android.
This phone has only one SIM card slot. So, buy Mi4i if you need dual SIM support.
#3. Asus Zenfone 2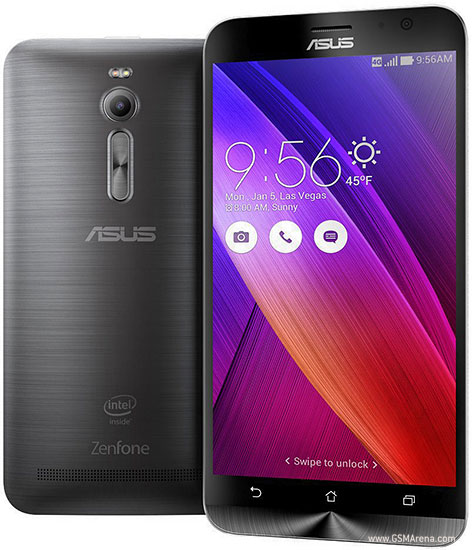 Asus stepped into this million dollar smartphone business last year with a super; duper phone called Zenfone 5. They had launched two other models called Zenfone 6 and Zenfone 4. All those were first gen Zenfone series among which Zenfone 5 has robbed everyone's wallet.
Then, this year, Asus launched Zenfone 2. The biggest advantage of it is the diversity. There are about four variants available which differs each other in terms of internal memory and RAM. Here, I am talking about Asus Zenfone 2 ZE551ML.
The smartphone sports a 64- bit quad- core Intel processor. Intel has given a unique feature to boost the performance of the device. The display is 5.5 inches bigger full HD one. You don't have to worry about scratches and minor damages as the screen is protected by Corning Gorilla Glass 3.
Pixel Master Camera is the biggest plus of Asus Zenfone 5. Here, in this phone too, the company has integrated that dedicated camera technology to enhance the performance. Back camera is 13 MP while the front is 5 MP. Both the cameras do a decent job to capture your special moments.
This phone also is not running on stock Android UI. Instead, Zenfone uses customized ZenUI from Asus. There are many special features come with this User Interface like app lock. Using those, you can decrease the number of third party apps, thereby reduce the processor load.
Zenfone 2 has dual SIM support (GSM and LTE). As you know, the design has been done efficiently, and the metal strip at the bottom of the screen adds incredible form factor.
PS:- Will be continued.