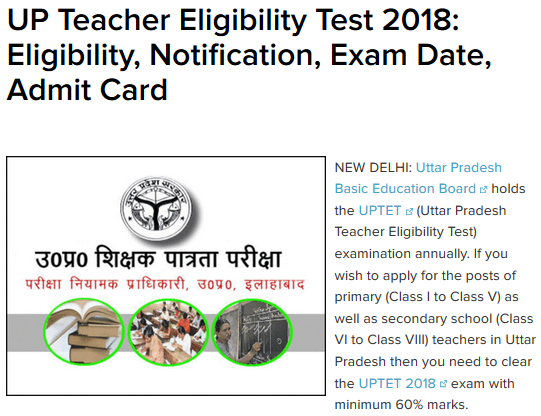 Candidates who have applied for UPTET Examination will definitely search for UPTET Syllabus 2018, UPTET Preparation Books, and Complete Syllabus for UPTET 2018. There are TWO Papers in UPTET. Paper I and Paper II. Before registering for Examinations you will be required to that you're even eligible to sit in UPTET.
UPTET Latest News 2018 – Notification
Uttar Pradesh Basic Education Board conducts a Teacher Eligibility Test. This examination is known as UPTET (Uttar Pradesh Teacher Eligibility Test). This is an important Test for the candidates who are interested in any UP Government based Teacher Job. People who have completed their graduation in Discipline with D.ED or BTC can apply for UPTET Exam 2018.You may check the eligibility criteria listed below.
Eligibility For UPTET 2018

The applying candidate should be 12th Pass from a Central or State recognized board. Scoring minimum 50% marks. The candidate should have completed a graduate or equivalent in Teaching Training Programmes like B.ED, etc.
Best Books for Preparation of UPTET 2018
Now, if you're eligible to sit in for UPTET then you surely require List of Books for Preparation of UPTET 2018. Therefore, you can check the list of UPTET Books for Preparation mentioned as follows:-
UP-TET: Paper-II Upper Primary Level for Social Studies Teachers Guide (Popular Master Guide)
by RPH Editorial Board
UP TET PAPER – 1 2018
by UnIQue.Publications
UP TET PAPER 2 SAMAJIK ADHYYAN IN (HINDI) 2018
by Unique publishers
Uttar Pradesh Bhasha Shikshak Patrta Pariksha Sanskrit (For Secondary/Higher Secondary Level)
by Mithilesh Pandey and Ranjan Kumar Tripathi
UPTET Uttar Pradesh Shikshak Patrata Pariksha Paper-I Class (1-5): Shikshak Ke liye
by Arihant Experts
UP TET Environmental Studies (Hindi)
by Vikas Doon
Uttar Pradesh Shikshak Patrta Pariksha Samajik Adhyayan Higher Secondary Level (For Class VI-VIII) (Code 2155) PB….Singh
 by Singh
UP TET Solved Papers: Papers I & II – Classes I-V & VI-VIII: Classes 1 to 4 and 6 to 8
by Editorial Board : Samanya Gyan Darpan
Complete Syllabus for UPTET 2018
Applied candidates who are searching for UPTET Syllabus 2018 can check their syllabus below according to their Classes. If you already know your syllabus then does check the List of Books for preparation of uptet 2018 above.
Paper I: For those want to become teachers for classes I-V.
Paper II: For those want to teach classes between VI and VIII.
Paper I and II: Those interested in teaching from Class I to VIII will have to appear and qualify in both the papers.
Some state conduct Paper III exam or Category III is for secondary school teacher recruitment.

Child Development and Pedagogy 30 MCQs 30 Marks
2. Language I 30 "30"
3. Language II 30 "30"
4. Mathematics 30 "30"
5. Environmental Studies 30 "30"
Conclusion
If you still have some doubts on UPTET Books for Preparation or UPTET Syllabus 2018 then you can comment below and we will connect with you.